New City Gate renovation ideas at Beach road. Today we are featuring a newly renovated condo unit City Gate Residences, developed by Fragrance Group Pte. Ltd and designed by Nicole.
LS2 Design & Construction remodeled this city gate residences condo at 371 beach road to take full advantage of the amazing city views from all angles. A soft pastel grey palette is complemented by touches of wood frames and fun pops of colors to feature the living area.
Source from LS2 – City Gate Residences at 371 Beach Road City Gate
City Gate Contemporary Living Space
Cozy yet functional in style, this apartment by Nicole from LS2 is a testament to urban city living. This condo renovation idea is inspired by using neutral palettes and flowy design aesthetics.
Nicole could accent the interior with pops of colors, including the striking focal point for the TV console backdrop. The unique decorative pieces redefine what modern city living is like and of course, the spectacular views from City Gate Residences development itself.
Most of us like to return to a welcoming and inviting home. After all, home is where we rest and feel comfortable after a long day's work. Keeping the walls in soft pastel greys, while distributing vibrant lightings and shades across the living space complement the home's gracious abode.
Walk into this contemporary open plan home, a cozy living area awaits you. The furniture area with the rugged black rugged centerpiece, matched with grey draping curtains makes space feels more welcoming.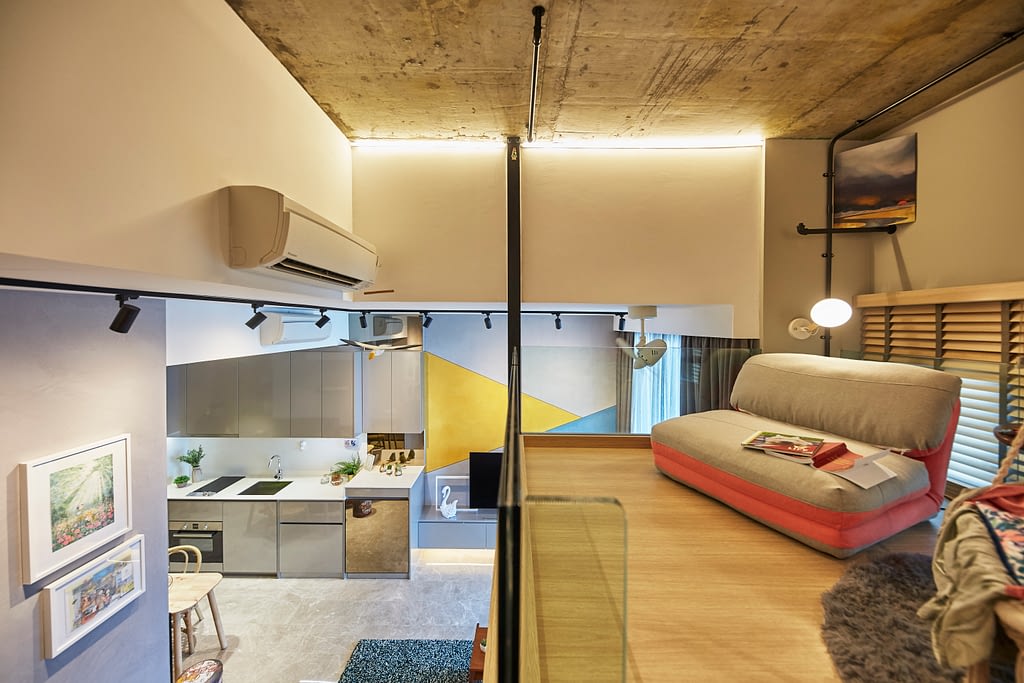 Step up into this spacious home with high ceiling, the clever use of colors and lightings, topped with furniture arrangements and right mix and match of fabrics makes space feels more intimate immediately.
An art piece tucked quietly in the corner of the wall, with a hint of warm light, suspended track lightings.
The black and white blinds are a functional textural backdrop, allowing rays of natural lights into the home. This adds visual and tactile warmth, giving you the additional coziness to the loft.
Daylight from the loft skylights reaches deep into the heart of the home living area. Brilliantly creating a bright light -filtered interior.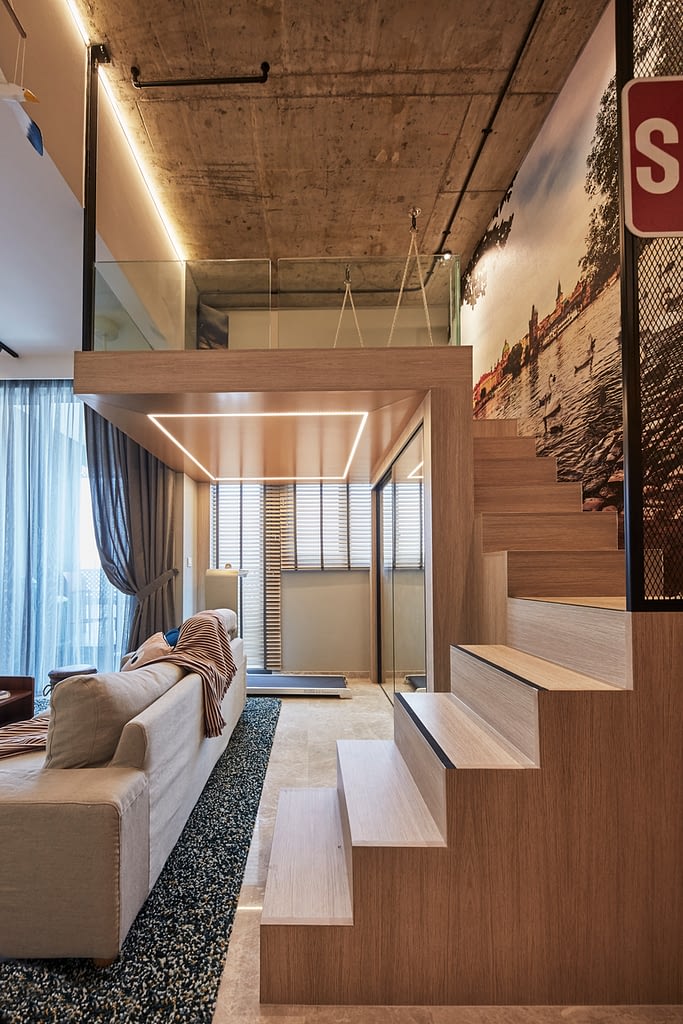 Inserting a mix of texture, functional elements, and colors, LS2 Design & Architecture was able to demonstrate the new additions with industrial construction in this unit at City Gate Residences.
City Gate Developer
City Gate developer is a property development by Fragrance Group Limited. City Gate at beach road is a mixed development with 311 residential units and 188 commercial units. Fragrance Group Limited was listed on the main board of SGX-ST in 2005 and now has a market capitalization in excess of $1 billion across 3 continents.
Other projects by this developer include Waterfront@Faber, Urban Vista, Parc Rosewood and more.
Renovation Contractor
LS2 Design & Construction is a trusted renovation contractor in Singapore. With over 10 years of experience in the industry, they guarantee superior quality in workmanship and prompt delivery on hand-over dates.
Work with their award-winning designers and certified contractors to help customers make the home renovation process a breeze. LS2 designers can provide virtual design assisting services to their clients.
Over the years, they know the process of working and liaising with clients. By creating professional documents and drawings to assist homeowners in realizing their dream home.
Home transformation to make any living space both functional and inspirational is at the heart of what they do best. LS2 Design and Construction is indeed your go-to renovation contractor in Singapore.
Check out some of their other designs and home renovation works here.
Contact us to arrange an exclusive 1st-time FREE appointment with their designers today. Be the first to know about exclusive deals and discounts at Propertyprosg.com
Contact Us
Click here to subscribe. Join our community to learn more about new condo launches, mortgage financing, renovation ideas and more.